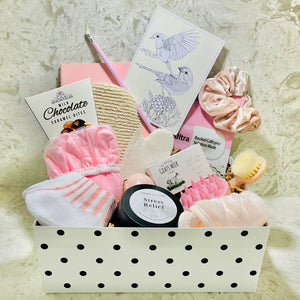 Introducing our Tranquil Retreat Spa Gift Basket – a haven of relaxation and rejuvenation thoughtfully curated to provide a serene escape from the demands of everyday life.
Description:
Indulge in a moment of self-care and bliss with our Tranquil Retreat Spa Gift Basket. Each carefully selected item invites you to unwind, reflect, and revitalize in the comfort of your own space.
Gratitude Journal and Pencil: Begin your journey to inner calmness with our gratitude journal and pencil. Explore the power of mindfulness and reflection as you pen down your thoughts and embrace the beauty of the present moment.
Birdtopia Color-In Postcard: Let your creativity take flight as you immerse yourself in the calming world of coloring. This intricately designed postcard from Birdtopia adds a touch of artistic relaxation to your day.
Exfoliating Bath Scrub Mitten: Pamper your skin with our exfoliating bath scrub mitten. Gentle yet effective, it leaves your skin feeling soft, smooth, and rejuvenated after each use.
Shower Cap: Elevate your shower routine with our chic shower cap. Keep your hair dry and protected while indulging in the ultimate relaxation experience.
Reusable Makeup Washcloth Embrace sustainability with our reusable makeup washcloth/towel. Soft and versatile, it's perfect for removing makeup or simply refreshing your skin.
Soothing Head Scalp Massager: Melt away tension and stress with our soothing head scalp massager. Its gentle touch stimulates relaxation and promotes a sense of tranquility.
Stress Relief Eucalyptus + Spearmint Soy Candle: Fill the air with the calming scents of eucalyptus and spearmint. Our stress relief candle creates an ambiance of serenity, perfect for your relaxation ritual.
Cozy Low Cut Arch Supporting Socks: Wrap your feet in comfort with our cozy low cut arch supporting socks. Designed for relaxation, they provide a touch of warmth and care.
Bath Bomb: Transform your bath into a luxurious spa experience with our fragrant bath bomb. Watch as it fizzes and releases a soothing aroma that envelops your senses.
Australian Goat Milk Soap Bar with Coconut: Nourish your skin with our Australian goat milk soap bar enriched with coconut. Experience the gentle cleansing and hydration that nature's ingredients provide.
Soft Scrunchie: Keep your hair stylishly secure with our non-damaging scrunchies. They're the perfect blend of fashion and function for your pampering sessions.
Face Masks - Ultra Revital Collagen Solution Mask: Rejuvenate your skin with our ultra revital collagen solution mask. Let the mask's nourishing properties restore your complexion's natural glow.
Dry Body Brush: Enhance circulation and exfoliate gently with our dry body brush. A wonderful addition to your spa routine, it promotes healthier-looking skin.
Unveil the serenity of our Tranquil Retreat Spa Gift Basket and discover a world of relaxation, rejuvenation, and inner peace. Whether it's a thoughtful gift for a loved one or a well-deserved treat for yourself, this basket is a gateway to a haven of calmness and well-being.