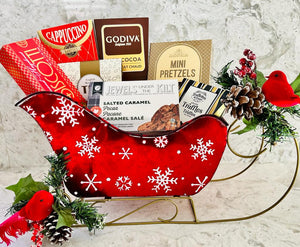 The Red Snow Flake Sleigh is an exquisite and festive holiday-themed sleigh designed with intricate red snowflake patterns adorning its sides. Crafted with attention to detail, this charming sleigh exudes a seasonal charm, perfect for gifting or as a centerpiece during holiday celebrations.

Within this delightful sleigh, it hosts a selection of luxurious treats:

1. **Godiva Hot Cocoa:** Indulge in the rich, velvety smoothness of Godiva's hot cocoa, a decadent treat that promises a luxurious chocolate experience.

2. **Truffettes de Cocoa:** These delectable chocolate truffles offer a rich, creamy taste, perfect for those seeking a melt-in-your-mouth chocolatey delight.

3. **Hazelnut Biscotti:** Crisp and flavorful, these biscotti are laden with the nutty essence of hazelnuts, ideal for dunking into your hot cocoa or savoring on their own.

4. **Salted Caramel Pecan:** A fusion of sweet caramel and savory salt complemented by the buttery richness of pecans, providing a delightful contrast of flavors.

5. **Mini Pretzels:** A crunchy and salty snack, these mini pretzels add a savory element to the assortment, perfect for those seeking a contrast to the sweetness of other treats.

6. **English Breakfast Tea:** A classic black tea blend, offering a robust and invigorating flavor, perfect for sipping alongside these delectable treats or for a comforting hot beverage on its own.
7. **Cappuccino:**: A premium coffee blend featuring rich espresso and frothy milk, offering a luxurious and aromatic hot beverage to accompany the sweet and savory treats.

This assortment within the charming Red Snow Flake Sleigh presents a balance of flavors and textures, catering to both chocolate lovers and those with a penchant for savory delights. The combination of seasonal charm and delicious treats makes it an ideal gift or a delightful addition to any festive gathering during the holiday season.