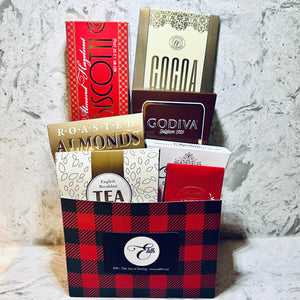 Our Luxury Host Gift Basket is designed to elevate your appreciation for the gracious host or hostess who has welcomed you into their home. This thoughtfully curated basket is a symphony of delectable treats that promise to delight and charm even the most discerning palates.

Inside this exquisite gift basket, you'll find a harmonious blend of flavors and textures that will leave a lasting impression:

1. Hazelnut Biscotti: Crisp and buttery, these hazelnut-infused biscotti provide the perfect balance of nutty richness and satisfying crunch.

2. Premium Cocoa: For those cozy evenings by the fireplace, our premium cocoa blend offers a velvety-smooth, indulgent treat.

3. Roasted Almonds: Perfectly roasted to bring out their natural flavor, these almonds are the ultimate savory snack.

4. Godiva Coffee: An irresistible aromatic experience awaits with every cup of Godiva Coffee, renowned for its smooth and luxurious taste.

5. English Breakfast Tea: Savor the essence of tradition with this classic blend of robust black tea that's perfect for a morning pick-me-up.

6. Lindt Chocolates: Experience the world of chocolate excellence with Lindt's renowned Swiss chocolates. Each bite is a luxurious journey of flavor.

7. Caramels: Soft, chewy, and irresistibly sweet, these caramels add a touch of rich indulgence to the basket.

The Luxury Host Gift Basket is a testament to your appreciation and gratitude. Whether you're visiting for a special occasion, a weekend getaway, or simply to reconnect with dear friends, this gift is a tangible expression of your thoughtfulness.

Please note that this product is not available for return as it is a meticulously crafted gift basket. Every item within has been carefully selected to ensure an unforgettable gifting experience.

Thank you for choosing the Luxury Host Gift Basket to convey your appreciation. Show your gratitude like never before – order today and leave a lasting impression with the gift of indulgence and sophistication.