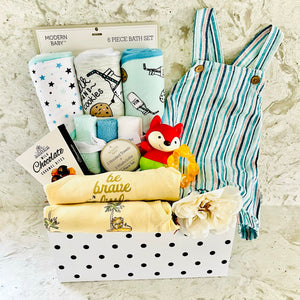 Introducing the Little Gentleman's Delight Baby Boy Gift Basket!
Celebrate the arrival of the precious baby boy with a curated collection of essentials and delights that are as charming as they are practical. Nestled within this beautifully crafted basket are carefully selected items that promise comfort, joy, and moments of pure bliss for both the baby and the parents.
Blue Overall: Wrap the little one in style with an adorable blue overall, perfectly designed for both comfort and cuteness. Crafted with the softest fabrics, it's ideal for those special occasions or simply lounging in cozy contentment.
Onesies Set of 2: Every baby's wardrobe needs these versatile staples. Two charming onesies ensure the baby stays snug and fashionable all day long. These outfits are not only easy to put on but also feature playful designs that capture the essence of childhood.
Caramel Milk Chocolate Bites: Indulge the parents' sweet cravings with a pouch of gourmet caramel milk chocolate bites. A treat for their taste buds, this delectable snack is perfect for those stolen moments of relaxation amidst the joyful chaos.
Teething Chew Toy: Soothe the baby's tender gums with a specially designed teething chew toy. Crafted with care, this toy provides relief during the teething phase and introduces the baby to different textures in a playful manner.
Easy-to-Clean Bath Toy: Make bath time a splashing success with an easy-to-clean bath toy. Designed with both fun and hygiene in mind, this toy ensures hours of water-filled entertainment while maintaining a clean and safe environment.
Modern Baby Set of 6: Elevate the baby's bath time routine with a modern baby set that includes three hooded towels and three washcloths. These luxurious and absorbent essentials make drying off a delightful experience for the baby.
Faux Flowers: Add a touch of beauty and elegance to the nursery with a bouquet of faux flowers. These everlasting blooms bring a hint of nature indoors, creating a serene atmosphere that complements the joyful moments shared with the little one.
Wrapped with care and presented in a charming basket, the Little Gentleman's Delight Baby Boy Gift Basket is a thoughtful way to celebrate the new addition to the family. Each item has been chosen to bring comfort, joy, and a touch of luxury to this wonderful journey of parenthood.